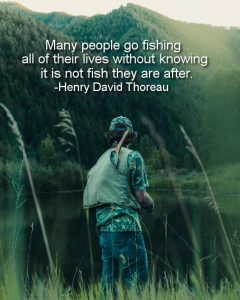 As an observer of life, I recognize my need to fill a void. I fish for the next shiny new thing, the final accomplishment that brings wholeness to my existence, striving toward something at the next turn in the bend. Running for this finish line, expecting to feel complete, leaves a feeling of emptiness. An anticlimactic victory carries diminished expectation of pure elation that turns quickly to disappointment. Motivated by achievement, the results are an empty promise, a delayed realization that life is not about fishing. The wholeness has always been there. I had the magic, power, and fullness all along; I simply had to search within myself and feel it, know it, and embrace it.
My wholeness exists always, yet this truth escapes me often. Nothing I do, say, or have changes this absolute truth. Fishing to snag something for nourishment, for sport, for completion, only offers a brief moment of unfulfilled fullness. Soon I throw the fish back into the water. This marks a reckoning, a sigh, and the acceptance that victory contained tremendous limits and lost its luster soon after catching the prize. Believing I wanted to eat, cook, and bask in the accomplishment longer, dwell in its victory, quickly surfaces the reverse reality. Instead, I return the fish to its origin while I search again for another roaming animal of accomplishment…
Until I know, feel, and accept the freedom and truth of my wholeness.