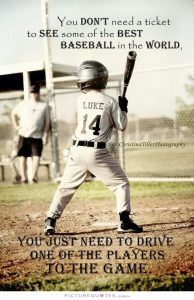 Windup
With a full count loudly laying the foundation his body extends like an eagle in flight, an arm stretches back, and fingers tighten around the object that materializes from his dusty glove. The air is moist with the heat of summer; beading sweat lines his forehead, and dirt lives beneath his fingernails. Chirping birds and observers fill the air with chatter, the background music for the boys of summer. Fragrance of green grass and seasonal dew emit from the diamond.
Release
The gloveless hand releases the red-stitched, white leather sphere with nine-year-old force while his leg elongates to step forward into the soft sand below. Like one giant step for baseball-kind, he gouges the dirt mound below the tiny hill, seemingly a mountain versus a molehill. He relinquished the throw toward another mitt; the anticipation thickens the air as spectators hush to hold their breath; and the projectile barrels toward home. The white object floats as if in slow motion; it carries the held breath of spectators.
A stick of great length awaits connection for its crack at the orb. Square, padded bases occupy bodies ready to run. A crouched, masked boy awaits his mitt's retrieval. Seven, focused players ready themselves for the speeding, catchable bullet potentially coming their way. Instead, the long rod of swinging aluminum misses the spinning leather by millimeters for strike three, game over.